As part of DIY Cultures festival (produced and curated by Hamja Ahsan & Helena Wee of Other Asias, and Sofia Niazi of OOMK magazine) the library recently organised a workshop and discussion about the history of black arts magazines in the UK. Recordings are available at the bottom of the page.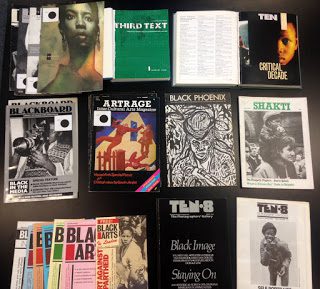 Drawing on the unique holdings at the Stuart Hall Library, artist Joy Gregory and writer, curator and artist David A. Bailey were in conversation with librarian Nick Brown to discuss the importance and contemporary relevance of these magazines.
The period from the late 1970s to the mid-1990s saw the emergence of arts magazines such as Black Phoenix, Artrage, Black Arts in London, Bazaar,Echo, Polareyes, Ten.8, and Third Text which dealt specifically with the work of British Black and Asian artists or engaged in a broader cultural and political struggle over the politics of representation.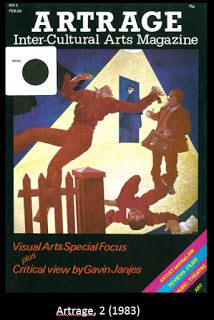 Some of these magazines were self-published while others came about through Arts Council funding but all engaged in grassroots organisation and can be understood as part of a wider struggle for social justice. They gave expression to a generation of artists whose work represented a new politicisation around issues of cultural identity, particularly the intersections of race, gender, class and difference. As David A. Bailey and Stuart Hall wrote in Ten.8;
"It maps out the terrain of black cultural politics during a period of rapid and turbulent change which encompassed several major paradigm shifts in both theory and practice, and was marked by a powerful synergy between race, politics and representation." (p. 4, Vol. 2, No. 3, 1992.)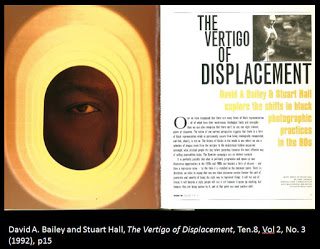 The workshop consisted of Joy Gregory (artist) and David A. Bailey (artist, writer and curator) in conversation with Nick Brown (Librarian at the Stuart Hall Library, Iniva). David worked on and wrote for magazines including Ten.8 and Third Textand has long been a participant in and organiser of the exhibitions and issue that form the context of these publications. Joy is a key member of the group of artists that emerged during this period and her work was often featured in the magazines. The conversation introduced some key publications and attempted to critically situate them, as well as give an opportunity for participants to browse the magazines. Produced during a time of cuts in public services and welfare, increasing social division and a dominant narrative in the popular press of racism and xenophobia the current importance of these magazines might be as a tool to help inform an emergent generation of cultural activists now facing an intensification of these same issues.
Listen here
David A Bailey MBE is a photographer, writer, curator, lecturer and cultural facilitator who lives and works in London. David A Bailey's practice is focused on the issues that relate to the question of representation in the areas of photography, performance and artists' film. These interests have informed his appointment as an adviser, and subsequent curator with Autograph (ABP) and the Institute of International Visual Arts (Iniva) in 1994. One of his main concerns is the notion of diaspora in art. He co-curated the ground-breaking exhibitions Rhapsodies in Black: Art of the Harlem Renaissance with Richard J Powell at the Hayward Gallery in London in 1997, and Back to Black: Art, Cinema and the Racial Imaginary with Petrine Archer-Straw and Richard J Powell at Whitechapel Art Gallery in London in 2005. David A Bailey has written extensively about visual art and performance. From 1996 to 2002, he was Co-Director of the African and Asian Visual Artists Archive (AAVAA) at the University of East London. From 2005 to 2009, he was Senior Curator of Autograph (ABP), and from 2005 to 2011 he was a Curator at Platform for the Remember Saro-Wiwa Living Memorial. Since 2006, he has been the founder and Director of the International Curators Forum, and between 2009 and 2010, he was the Acting Director of the National Art Gallery of the Bahamas in Nassau.  David A Bailey was awarded an MBE in the Queen's Birthday Honours List 2007, for services to art.
Joy Gregory is a graduate of Manchester Polytechnic and the Royal College of Art. She has developed a practice which is concerned with social and political issues with particular reference to history and cultural differences in contemporary society. In 2002, Gregory received the NESTA Fellowship, which enabled her the time and the freedom to research for a major piece around language endangerment. The first of this series was the video piece Gomera, which premiered at the Sydney Biennale in May 2010. She is the recipient of numerous awards and has exhibited all over the world showing in many festivals and biennales. Her work included in many collections including the UK Arts Council Collection, Victoria and Albert Museum, Institute of Modern Art, Brisbane, Australia, and Yale British Art Collection.