Newport Primary School, A Space and Iniva developed a collaborative art making project working with parents, teachers and students to create a collective quilt exploring heritage, storytelling and sense of belonging. The project was led by artist Aya Haidar, using the Iniva Creative Learning publication 'Who are you? Where are you going?'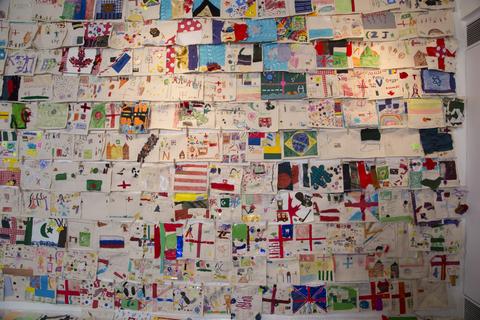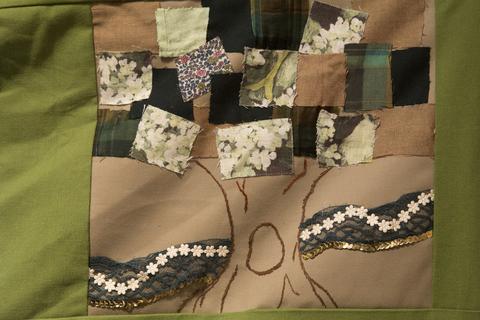 About the project
A Place for Conversation was created in partnership with Newport Primary School to make a space for parents, teachers and students to reflect on where they feel they belong in terms of culture, identity, heritage and home. Through art making workshops and discussions, parents were initially asked to think about one story they would like to pass on to their children. These stories were then visually represented through textile fabrics and made into samplers (quilt squares).
Students and teachers were also asked to create samplers which explore heritage through an event like the Olympics or the World Cup. Through this process both groups have made representative flags, which have been added to the parents samplers to create a large school collective quilt.
To see the results visit our on-line gallery of the collaborative works made as seen at an exhibition at Rivington Place in July 2014.
Workshop Programme
A Place for Conversation was delivered in schools during 2014. The programme was designed by Lyn French and delivered by the artist Aya Haidar, whose artwork 'Peregrination' found within 'Who are you? Where are you going? served as a starting point.
In 'Peregrination' Aya Haidar has sewn a map on the inside of each of a pair of shoes. If worn, the maps would be hidden from sight. This suggests that we all take personal journeys that are known only to us.  The threads outlining the maps lace across from one shoe to the other, joining them together. The artist may be conveying what it feels like to  be connected to more than one country and to have a mixed heritage. We find out who we are by exploring our family stories and sharing them with others and discover our purpose and where we are going in life through identifying what is most important to us.
The students, teachers and parents participating in A Place for Conversation explored themes relating to heritage and personal life stories and trajectories by making art relating to their identity, cultural background and family history.
About the artist
Aya Haidar is a Lebanese multimedia artist whose work focuses on the use of found and recycled objects in order to create poetic works exploring loss, migration and memory.
Her most recent solo exhibitions, titled Year of Issue(2014) and Behind Closed Doors (2011) were shown at the New Art Exchange, Nottingham and Bischoff Weiss Gallery, London, respectively. Her most recent group shows, Stitching Cyborgs (2014) featured works exhibited at Contemporary Arts Platform, Kuwait and A'Rebours (2014) at Bischoff Weiss Gallery, London.  She has also participated in various international art fairs, namely FIAC (2009), Art Dubai (2011, 2012, 2013), MENASA (2013) and Art Istanbul (2013).
She says,  'My current work focuses on the recycling of found and disposable objects making poetic pieces that explore loss, migration and memory, with a particular focus on the Middle East through the histories contained within aged, and culturally specific objects. I further develop this aspect of re-using objects to re-create narratives, to explore memory with a focus on older objects from previous generations. This idea of the development of a generational craft work that spans time explores hand-me-down skills, stories and community, and by extension, cultural specificity and intercultural nature of British society.'
---
To recreate parts of this project and find exercises for the classroom or small groups download our free accompanying resource: The stories that make us: Exploring personal histories
To commission an ArtLab project with Iniva Creative Learning contact us: info@inivacreativelearning.org
Written by Jenny Starr