Audio recordings of the presentations at the January 2015 Stuart Hall Library Research Network Meeting are available below.
The speakers were Onyeka Igwe and J.D. Stokley on Memory, Representation & the Archive: the Use of Autoethnography in Performance & Film, and Kabe Wilson on the Intersectionality of Football Terrace Hate Speech.
Onyeka Igwe and J.D. Stokely "Our work is interested in the idea of using archived materials to create a "necessary fiction" that explores the complexities of our ancestral histories. How can we as artists challenge the western simplification and belittling of black history through auto-ethnographic practices?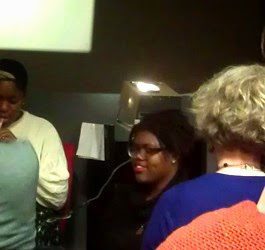 Kabe Wilson "Through the lens of Stuart Hall's theory of 'inferential' racism, I will unpick the ways in which the complexity of intersectional hate speech means that the essentialist narratives of media and legal assessment remain inadequate tools for responding to it."