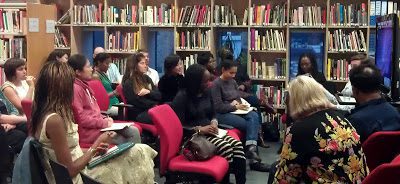 The Stuart Hall Library Research Network is a forum for researchers, artists, academics, curators, students and activists to introduce an aspect of their work. It is a meeting place for the discussion of practice-based or more conventional forms of research that may include: curatorial practice; visual arts; film and media; cultural studies; cultural activism; postcolonial studies; literary studies, including criticism and theory.
We are looking for exciting and engaging ways of uncovering your research. This might include individual presentations, presentations in pairs, in conversation/dialogue, or presenting a group project.
If you are interested in presenting at a future Research Network session, send a 200 word proposal outlining your topic to the Library Manager. The meetings will take place in the Stuart Hall Library from 6.30 -8.30pm. Each presentation will be 20 minutes long (2 presenters per session). Previous themes have included Post-Colonialism and globalisation
Issues of race and diversity in the visual arts
Diaspora; social and cultural perspectives
The intellectual legacy of Stuart Hall and cultural studies
The politics and philosophy of identity
This is not intended as an exhaustive list and all presentations on practice or research that in some way resonates with the activities of Iniva are welcomed.
The closing date for this round of proposals is the 19th of December 2014.