Chris Dercon, Director of Tate Modern, and artist Yinka Shonibare MBE launched Iniva's Commissions and Exhibitions Fund on 6 November. Turkish artist Burak Delier, whose work explores capitalism through art, will be the first to benefit from the Fund.
We were glad to welcome Chris Dercon, Yinka Shonibare MBE, board members and other guests to the launch of our new Fund which was created to provide the next generation of artists from around the world with the opportunity to create new work, offering them creative freedom in terms of content, and supporting them to take their careers to the next level.
The Fund has been established through the proceeds of an auction of works generously donated by artists who were supported by Iniva earlier in their careers. The first works, sold at auction through Sotheby's in February 2013, were donated by Yinka Shonibare MBE, Mona Hatoum, David Adjaye and Peter Randall-Page. The new commission from Burak Delier, to be shown at Rivington Place from 26 March – 17 May 2014, will enable him to critique society in a way that is relevant to Turkey and beyond.
Chris Dercon gave a rousing speech about his relationship with Iniva. Here are edited highlights!
"The reason I got the job at the Tate Modern is simple, it was because of Iniva. Iniva and the history of Iniva created a blueprint for what I have been doing over the past twenty years, and in interviews when I became the director of Tate modern I kept referring to Iniva. The reason is simple. In 1994 Tate hosted a conference called New Internationalism, and if you read the papers they say that's where it all started. New internationalism at Tate Modern. In fact…and that is a hard fact, it was a conference organised in 1994 in Tate Britain by Iniva. Iniva invited all the key speakers. Iniva started it all! Iniva became a movement!"
"Iniva creates a space where people who know something can speak with people who know something else. It's always at Iniva where you get to see these different things that you have to learn – Iniva is showing the things you don't know yet. I am only interested in knowing the things I don't know yet. So thanks Tessa, Yinka and Iniva – it's thanks to you I have a job!"
"Iniva is a place for meetings, speaking and a place for encounters… and when [Tessa] calls the artists they come. Then she commissions artists like our friend here from Istanbul, he comes. And he (Burak Delier) is going to address this problem of the new London and the new Istanbul, trying to give another perspective because that's what Iniva has been doing, and only Iniva, since 1994."
Yinka Shonibare MBE also spoke about how Iniva had helped him with his career in the early days with the project Diary of A Victorian Dandy which showed on London's underground Tube network in 1998. Yinka raised significant monies for the Fund with his generous donation of Boy on Globe for the auction last year. "As an artist I never wanted to be in the margins, I wanted to be in the mainstream and Iniva was able to help me achieve a lot of that….".
Tessa introduces the Fund and announces Burak Delier as the first recipient.
Burak Delier said that he was delighted to be selected and thanked the artists who had donated work to raise the funds that will go towards his show at Rivington Place in March 2014. Find out more about Burak Delier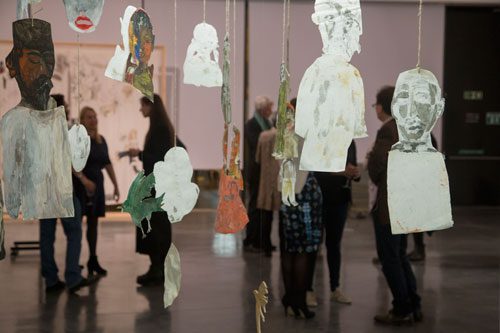 For full information about the Commissions and Exhibitions Fund and Burak Delier please visit our Press Page.
Photos by Christa Holka.