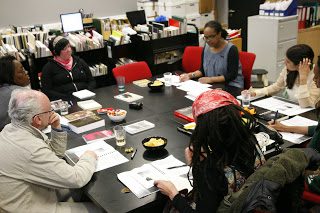 Join us for our first Research Network meeting of talks and discussion.
South African ceramicist Kim Bagley presents  Africa and the West: a contested conversation in modern and contemporary ceramics
Kim is currently researching representations of contemporary African identities that emerge in ceramics as a research student at UCA, Farnham.
Karinna Gulias explores language and imagery in Avoiding an Epistemological Approach to Reading Poetry
Karinna is studying Comparative Literature at Goldsmiths, University of London.
For more information or to submit a proposal to present at future meetings, email the library.