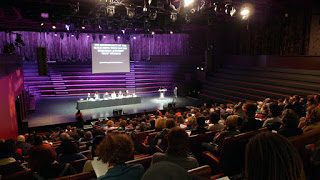 I returned to the library this week reeling with exhilaration in having attended and contributed to the conference BlackPortraiture[s]: The Black Body in the West (January 17 – 20, 2013).
Organised across three distinguished venues in Paris: École Nationale Supérieure des Beaux Arts, Paris 7 University, culminating in the Musée du quai Branly, this seminal and historical conference literally overflowed with hundreds of us gathered to talk, listen and watch a mammoth range of material about the black figure in portraiture. The spirit of the event  – of the passion for our photographs and research, of collegiate and personal warmth and support for each other, of inter-generational connectivity that respected each individual, was brought about by Professor Deborah Willis with the added support of others.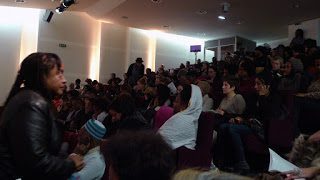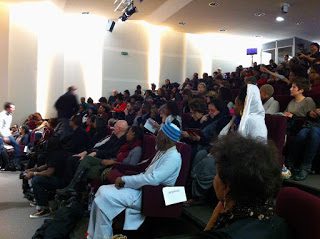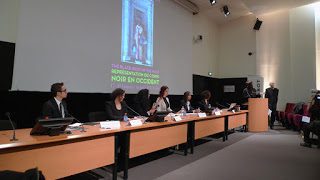 There were too many great things to say about this powerful sense of a collective project. As a conference free from privileging the few who could afford it, it allowed people to learn substantially about the now extensive range and breadth of persons – whether artists, theorists, curators or activists – involved in exploring how we might consider portraiture[s] as inextricably linked to signifying black folk. It allowed those who attended to take time out from the pressures (physical, mentally, socially, politically) we face at this moment of crisis (financial) and celebration (inauguration of President Obama to his second term). And it also allowed for us to recognise how a collective consciousness may energise us to into more action and momentarily focus our minds and bodies on the jobs that need to be attended to.
I highlight a couple of things here people said and did as a way of providing an insight into the variety of presentations of the conference.
The first day (Thursday 17th January 13) had to belong to the footballer Lilian Thuram(the most capped player in the history of the France national team). As a recent commissioner of the exhibition l'inventiondu sauvage (2011/12), and having written a Manifiesto por la igualdad (Manifesto for Equality), he was in conversation with Manthia Diawara and eloquently and quietly restated the interconnectivity between racism, sexism and homophobia. Through a familial story that introduced us to his Guadeloupian mother, his time in football and why he works against racism in France for his son's future, he reminded us of our duty to be vocal as there were a lot of people who would like to maintain the status quo.
The first two panels that took place on Friday morning (18th) Memory & Nostalgia: The archive in the Black Body (chaired by CherylFinley, and including Pamela Newkirk,myself, Celeste Marie Bernier, Brendan Wattenberg, Renée Mussai and dedicated to the life and work of PetrineArcher-Shaw) and Black Bodies: Live and Uncensored(chaired by IsoldeBrielmaier and including Simon Njami, Carrie Mae Weems, Elizabeth Colomba, Jean-Ulrick Désert, Lyle Ashton Harris, Daniele Tamagni) contained details of inspiration, imagination, and insight into the historical and contemporary creative projects of black portraiture. Whilst on Saturday 19th the panelists continued to enthuse and titillate the audience through presentations including those in the panel Black Erotics: New Theories on Race and Porn with contributions from Carla Williams, andMireille Miller-Young. Hank WillisThomas chaired the panel Contemporary Voices: naming and Branding the Black Body to include some of the younger generation of artists and theorists exploring the black body including Nana Adusei-Poku, Alexis Peskine, Misa Dayson and Aja Monet. Whilst the panel Out of Africa: Young Women Behind the Lens featured work by Zanele Muholi, Nandipha Mntambo and Ayana V. Jackson provided the emergent voices of women artists.
The conference required stamina from us all – both physically and mentally because of its sheer intensity and at times gruelling pace. But it was worth every effort. It is not that often that conferences inspire us – they are all too often a sounding box for egos and intellectual power show. But when orchestrated as a creative/intellectual project like this was, they are able to transport and propel us into action. Thanks to Deborah Willis, the conference organisers, sponsors and conference staff for making history.
Other Links:
Black Portraiture(s) Facebook page.
Conference Website, Tisch Photography and Imaging, New York University.
Next Future Website featuring Lilian Thuram foundation.
 Terrence Jennings Photographs of Black Portraiture(s) conference.