I had the privilege of attending and contributing a small part to the conference, held in Wolverhampton on Saturday 28th October organised by the Blk Art Group Research Project entitled: Reframing the Moment: Legacies of the 1982 Blk Art Group Conference. Their hard work and effort to further expose the concepts, aesthetics and thinking associated with artists from the 1982 group including Eddie Chambers, Claudette Johnson, Keith Piper, Donald Rodney and Marlene Smith were important and timely for many of us.
I suspect like many who attended – we were there as an eclectic set of artists, performers, writers and critics collectively wondering how we have found ourselves in a scene that has been so easily and readily unravelled since the mid 2000s. What the blk group conference confirmed since that period was a commitment through a more collective action and effort – to work towards a cultural politics and aesthetics that recognised the importance of: addressing discrimination; recognising the space of marginalisation and hegemonic culture; conceiving of notions of blackness and black aesthetics; and the importance of developing legacy and infrastructure. Their group can be seen within the wider  frame of a period associated with black arts movements of international artists groups formations from 1960s to 1990s.
Documentation and spaces for legacies, conversations and testimonials of movements and arts activism including the blk art group of 1980s are crucial to regrouping and reconsidering what to do next in 2012. I am right now, sitting, researching in a legacy space – a library whose work and acquisition of material speaks volumes about such cultural politics and aesthetics that have long recognised the need to displace and critique European-centred thinking about art.
14:38 – and I have just been given another gem from the SH library that resonates so much with the presentations in Wolverhampton over the weekend. As an uncanny echo, the second special issue of the NKA journal of contemporary African Art, Spring 2012, No. 30, The Black Arts Movement: Testimonials/Documents/Conversations pays homage to the Black Arts Movement in the US mid 1960s -1970s that includes the Weusi Artists/Academy (Weusi was translated as blackness in Swahili) and the AfriCOBRA group (African Commune of Bad Relevant Artists). The issue also includes writings about the work of the Brockman Gallery and Gallery 32, Los Angeles. Somewhat unlike the Blk Art Group in Britain in the 1980s, the US black arts groups appeared mostly male whilst being inextricably linked with the civil rights movement and community activism. This second NKA special issue seeks redress through a strong contemporary presence by women including Deborah Willis and Carla Williams The Vénus Noire, Emma Amos in conversation with Courtney Martin and Barbara Jones Hogu with Edna M. Togba, whilst including the artist Coreen Simpson's Photographic Suite "1+1 = 3" Joining Forces (1986).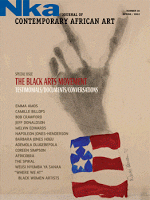 My question then becomes – what is the interconnection between such movements and artworks? What was and can be the conversation? And why are they being uncovered now? I am reminded of Stuart Hall letting us know that history always suggests that just as fascism and conservatism is on the rise, a simultaneous counter-movement of social and collective activism also makes its presence felt.
References:
NKA: Journal of Contemporary African Art (2011), 29: Remembering the Black Arts Movement. Durham, NC, Duke University Press.
NKA: Journal of Contemporary African Art (2012), 30: The Black Arts Movement: Testimonials,/Documents/Conversations. Durham, NC, Duke University Press.
Halstead, Richard (1990) 'The Other Story and the Institutional Visibility of Black Arts in Britain from 1980 to 1990.' Location & Institution unknown.
Abraham, Julia Ann Paige (2011), 'Transformation and Defiance in the Art Establishment: Mapping the Exhibitions of the Blk Art Group (1981 – 1983) ', Birmingham:University of Birmingham. See online: http://etheses.bham.ac.uk/3300/