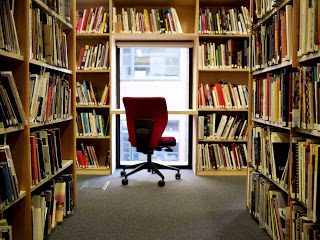 We are very excited at the prospect of the first National Libraries Day, which is taking place this Saturday, 4 February. We will be thinking about what makes Libraries special, particularly when in the digital age so much information is readily accessible on the Internet.
The timing is great for us: it's a chance to acknowledge the privilege of working in such a fantastic library, and an extra opportunity to share the knowledge, inspiration, and surprises that we discover in our special collection.
It is also an opportunity to celebrate Stuart Hall's 80th birthday, which is on Friday, 3 February. Stuart Hall led with the drive and impetus such projects require to establish the Library at Rivington Place, culminating with the collection moving into the building along with Iniva and Autograph ABP in 2007. To mark the occasion, Library staff have been gathering as many of Stuart Hall's publications as possible in order to compile a bibliography of work both written and inspired by his contribution towards political and cultural theory, and the arts. The bibliography will be available on the Iniva website by 3 February.
More info about Stuart Hall and Rivington Place in The Guardian interview, 2007:
http://bit.ly/nzDxsJ
To prepare for Saturday's open afternoon, we are gathering material from our archive, printed, periodical, zines and artists' book collections to go on display. After short talks by Library staff and the Curator of our new Library exhibition, visitors will be free to explore the Library and take a closer look at the items. We will be available to answer any questions, and if you wish to join the Library you will be able to do so on the day.
Whether you are a researcher, have a casual interest or are just passing, we hope you'll pop in and say hello, find out what the Library has to offer and enjoy the relaxed, beautiful space.
Hope to see you on Saturday!
More info about National Libraries Day can be found at:
http://www.nationallibrariesday.org.uk/