Exhibition at the Florence Nightingale Museum
Artist Susan Stockwell is currently running a project at the Florence Nightingale Museum based on quilt making. Taking inspiration from a quilt made from 20th century nursing uniforms, Susan and a group from Lambeth Council will create quilts from recycled materials.
The resulting art works, along with new work by Susan, will be shown in an exhibition at the museum called 'All Stitched Up', from May 2011.
Stockwell's work draws on everyday materials that are manipulated and transformed into extraordinary sculptures, collages and installations questioning ecology, historic and present day trade, and the post and neo-colonial implications of global commerce. Recent exhibitions include installation Flood at York St Marys (York City Art Gallery) 18 June-31 October 2010; Susan Stockwell Selected Works at the Victoria & Albert Museum (V&A), London in 2001 and group exhibitions Quilts from 1700 to the Present Day, Hidden Histories, Untold Stories at the V&A until and Creative Compass at the Royal Geographic Society.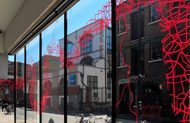 The artist has worked with Iniva on several occasions on the theme of mapping and created a site-specific commission, River of Blood, for the vast window of Rivington Place for the 2010 Iniva exhibition 'Whose Map is it? New Mapping by Artists'. The installation was made up of an intricate network of red tributaries to form the iconic image of the Thames River map. She draws parallels between city roads and human arteries, investigating the north versus south London divide that the capital's citizens frequently highlight. You can listen to a radio interview where the artist talks about the installation here.