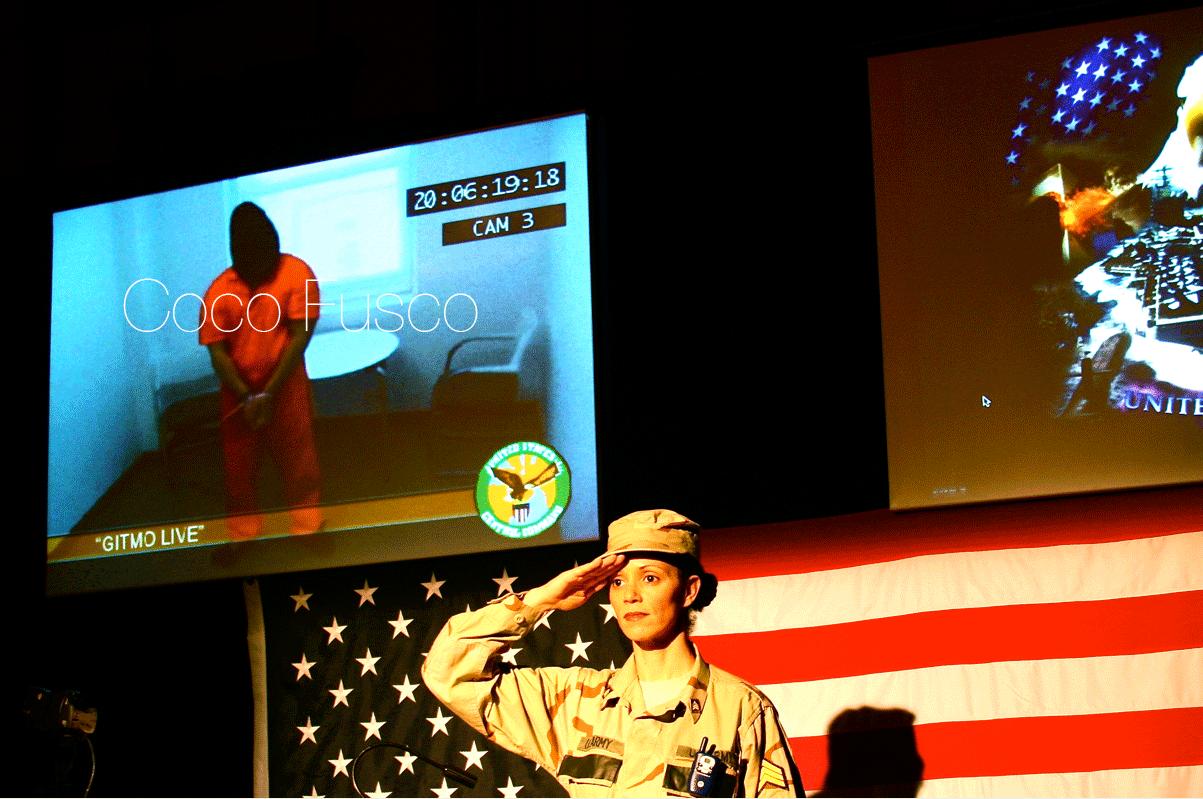 Cuban-American artist Coco Fusco  is one of today´s best-known performance-artists and is often concerned with gender-specific conflicts, migration, cultural colonisation.  Fusco has performed and curated throughout America and internationally, and currently is the Chair of the Fine Art Department at Parsons The New School for Design. Her recent work combines electronic media and performance and much of her work she draws on her Cuban heritage, using language performance and multimedia to explore issues of difference and cutural politics.
A recent example of a performance/ monologue by Fusco is A Room of One's Own, which explores the expanding role of American women in the 'War on Terror'. She raises questions about feminism in the 21st century and the ways that political conservatives have appropriated the language of women's liberation, while also drawing attention to how detention and prisoner abuse led to a reconsideration of the possible legitimacy of torture under the Bush administation.
Fusco published The Bodies that Were Not Ours with Iniva in 2001. This (now sold out) publication gathers together Coco Fusco's finest writings since 1995, as well as essays, interviews, performance scripts and fotonovelas which take readers on a tour of a 'multicultural landscape', accompanied by critical introductory essays by Jean Fisher and Caroline Vercoe. An audio recording of a conversation between Coco Fusco and John Akomfrah about the publication is available as a casette tape in the Stuart Hall Library.
Coco Fusco will participate in Iniva's current lecture series, the Keyword Lectures, discussing the term 'resistance' with academic Sara Ahmed on May 12 – find out more about this event here.