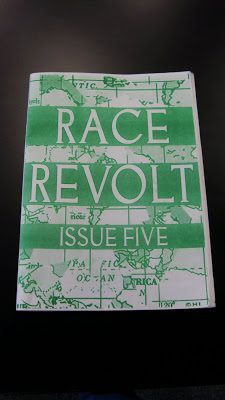 On Thursday 27th January we were very excited to launch the new issue of Race Revolt zine in the library. Ever since May last year when we launched our library zine collection, we have been hoping to collaborate in some way with Race Revolt as the zine is a personal favourite of the library team. We wanted to engage with the themes raised in each issue and hoped that the Stuart Hall Library would be a space for discussion and interaction as well as a chance to introduce the zine to new audiences.
Race Revolt compiles contributions on race politics by feminists and queers; the zine began in 2007 'as an intervention into the silences around race in queer, feminist and activist communities.' To launch Issue 5 of Race Revolt we invited editor Humaira Saeed , along with contributors to the zine: Yasmine Brien, Su Real , and Melissa Steiner, to discuss their contributions to the zine.
The evening was a fantastic opportunity to collaborate with one of our favourite zines and to interact with the specific points and issues. Each presentation was also grounded in personal and accessible language which is extremely refreshing and something I've really enjoyed in our series of zine events in the library.While it's not to say that zines and zine culture can't be intellectualised or theorised, it's so much more engaging to hear writers and artsists talk in extremely personal ways, particularly as many attendees at our zine events are new to the world of zine cultures. It was particularly exciting to overhear a member of the audience discussing the event afterwards saying "I didn't know zines were that easy to make. I want to make one now!"
If you weren't able to attend but would like to hear these presentations for yourself then audio recordings from the event are now available here
Thank you to all our guests and to everyone who attended. It's so encouraging to hear all your positive feedback and to see such excitement for zines and zine culture. We hope to continue our series of zine events this year so please stay tuned for further info. And an extra big thanks to Charlotte Cooper for her extremely generous donation of zines for the library collection!
Copies of Race Revolt can be found in the Stuart Hall Library.
Our library users might also be interested in the related race Revolt event Towards New Forms of Queer Belonging. This event sees a series of workshops and roundtable discussions challenging the ways in which gay rights are being used in nationalist, anti-immigrant and anti-Muslim rhetoric and ask what an effective form of queer solidarity might look like.