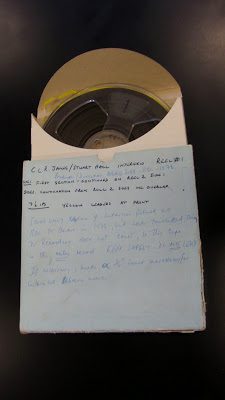 It's amazing what you come across in the library.
As we start to sort through boxes of uncatalogued materials waiting to be added to our collections we came across this:
The reel is labelled ' CLR James/Stuart Hall Interview' BBC 1976. This is a sound recording only as the original tv recording no longer exists, this tape is the only record!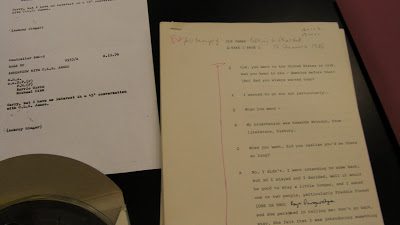 Luckily this recording has been transferred to CD, which is now available in the Stuart Hall Library collection. It is the only known audio recording of this interview.
A transcript of the interview is also available in the library and will be added to the archives.
You'll be surprised what you can find in the Stuart Hall Library. To search our collections you can visit the library catalogue here. As we prepare for our annual closed week in August we will hopefully be able to spend some time looking through our backlog of uncatalogued material, who knows what we'll find!