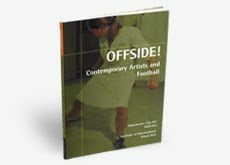 As the World Cup approaches we have been looking through our library and archive collections for all football related materials. We have found some incredible catalogues and examples of artists that use football as a primary focus in their work, as well as a range of academic, literary, and cultural studies texts that explore football culture in great depth.
In 1997 Iniva and Manchester City Art Galleries collaborated in the exhibition Offside! Contemporary Artists and Football. The exhibition catalogue published on the occasion of the exhibition is available here in the Stuart Hall Library.
We also have a wide range of slides, ephemera, and press cuttings documenting the exhibition and publication available exclusively to the library. Contact us for more information about accessing the archives.
Below is a list of exhibition catalogues, monographs, books, av materials, and articles relating to football in art, literature, and culture. All of these materials are available to the public Tuesday – Friday 10-5pm in the library. Please let us know if you would like any further details on these materials and how to search for materials in the library library@iniva.org
Books
Artistas and futebol
Galeria Grossman
1986
Catalogue of an exhibition on "Artists and football" organized on the occasion of the 1986 World Cup. Artists include: Aldemir Martins; Emile Tuchband; Fang; Francisco Gallotti; Fulvio Pennacchi; Gustavo Rosa; Harry Elsas; Haydea Santiago; Inos Corradin; João Calixto; Juarez Machado; Sonia von Brüsky; Vicente Do Rego Monteiro; Vincenzo Cencin.
815.6 ART
British Asians and Football : culture, identity, exclusion
Burdsey, Daniel
Routledge
2007
In spite of a great passion in the game and significant involvement at amateur level, British Asians are under-represented in professional football. This book asks how and why this situation has developed, using extensive interviews with British Asian football players to offer an insider's assessment of the difficulties and conflicting demands faced every day. In addition, the book also critically examines the work of the anti-racist football movement, questioning the strategies and policies designed to eradicate racism and asking whether other approaches might be more effective or reflective of the views of the players themselves.
ESS BUR
Em jogo = On side
Centro de Artes Visuais
2004
Published on the occasion of an exhibition held at the Centro de Artes Visuais, Coimbra in 2004 to coincide with the European Football Championship 2004 in Portugal. Artists include: Joao Pedro Vale and Branca Bastos; Paulo Cunha e Silva; Holger Kruse; Durate Amaral Netto; Albano Silva Pereira; Jonathan Monk; Vik Muniz; Francisco Queiros; Laura Green; Miguel Amado; Andreas Gursky; Adriana Molder; Manuel Graca Dias; Eduardo Souto Moura; augusto Brazio; Paulo Catrica; Joan Nuno Coelho; Gabriel Orozco; Mark Wallinger; Jonathan Monk; Roderick Buchanan; Nicolas Bourriaud; Jeff Koons; Crispin Jones; Maria Lusitano and pedro Valdez Cardoso; Nuno Cera; Henry Bond and Liam Gillick; Stephen Dean; Leo Fitzmaurice; Nuno Domingos; Joana Vasconcelos; Ömer Ali Kazma; Pedro Letria; Augusto Brazio; Antonio Julio Duarte; Samuel Fosso; Alvaro Rosendo; Antonio-Pedro Vasconcelos; Nun Ferrari; Ana Santos; Fernando Marques (Formidavel); Luis Osorio and Pedro Rolo Duarte.
469 ONS
Fever pitch
Hornby, Nick
Victor Gallancz
1992
An account of the author's obsession with football.
ESS HOR
Football and its fans: supporters and their relations with the game, 1885-1985
Taylor, Rogan
Leicester University Press
1992
This work offers an account of the role supporters have played in the developments of British football.
ESS TAY
Football against the enemy
Kuper,Simon
Phoenix
1994
This work reports the author's journeys to twenty-two countries where he tried to find out the effects football can have on politics and culture and what makes different countries play a simple game so differently.
ESS KUP
Globalisation of Football
Sage
2009
This thought-provoking text offers illuminating insights into the relationships between different places that highlight many of the key transnational aspects of contemporary football'
ESS GIU
Hosts and champions: soccer cultures, national identities and the USA World Cup Arena
1994
This work gives the background to soccer's worldwide popularity and looks at where the World Cup has been played and how it has been won. It includes case-study chapters and general essays on the growth of the world game, the cultural meanings of soccer and the role of the media in staging the sport spectacle.Contributors include: Archetti, Eduardo; Bairner, Alan; Bromberger, Christian; Critcher, Chas; Edelman, Bob; Gosoyr, Matti; Horne, John; Humphrey, John; Jary, David; Lanfranchi, Pierre; Merkel, Udo; Redhead, Steve; Riordan, Jim; Sugden, John; Tomlinson, Alan; Young, Christopher
ESS HOS
In soccer wonderland
Germain, Julian
Booth-Clibborn Editions
1994
Photographs on football exhibited at the Photographers's Gallery, London, in 1992.
410.111 PHO GER
My favourite year: a collection of new football writing
Hornby, Nick
Victor Gollancz
1993
An anthology of original football writing. Contributors include: Doyle, Roddy; Pearson, Harry; Ritchie, Harry; Horton, Ed; Wicken, Olly; Taylor, D.J.; Richards, Huw; Hornby, Nick; Pierson, Chris; Nation, Matt; Brack, Graham; Watson, Don; Smith, Giles .
ESS FAV
O humor no futebol : Rio de Janeiro
Empresa Brasileira de Correios
1994
Exhibition of football cartoons.
81 HUM
Offside! : contemporary artists and football
Manchester City Art Galleries
1996
Catalogue published in collaboration with the Institute of International Visual Arts for the exhibition of the same name held in Manchester in 1996. Using photography, painting and installation the exhibiting artists (from Argentina, Britain, Colombia and Mexico) reference the imagery and text of football to explore the cultural environment of the game.Artists include: Adam Beebee; Roderick Buchanan; Freddy Contreras; Rosana Fuertes; Lucy Gunning; Crispin Jones; Gabriel Kuri; David Mackintosh; Simon Patterson; Natalie Turner; Martin Vincent; Mark Wallinger; Nick Waplington.Contributors include: John Gill; Simon Kuper; Richard Williams.
410.111 INI OFF
Passion of the people?: football in South America
/Mason, Tony
Verso
1995
Mason explores the place of football in the history of its three most successful South American exponents, Argentina, Brazil and Uruguay. He demonstrates that, from its beginnings, the game had wide popular appeal and he examines the role of British commercial and military interests as well as that of newcomers from, Italy, Spain and Portugal. He concludes by asking if the attention focused on football in Latin America today is exaggerated or whether the game truly is the "passion of the people".
8 MAS
Sport and postcolonialism
Berg
2003
Explores issues of the postcolonial sporting world and questions whether sport can act as a form of resistance in postcolonial states
ESS SPO
The trophy room
Cleveland Arts
2001
The Trophy Room celebrates a public art project by Neville Gabie for a Wimpey Housing estate that once was the site of Middlesbrough Football Ground
EDU TRO
AV Materials
Offside! contemporary artists and football
Manchester City Galleries
1996
Official video produced in conjunction with the Offside! Exhibition
VD 56
Offside – contemporary artists and football
BBC
1996
Mike Nolan, cab driver in Manchester reviews the exhibition Offside – contemporary artists and football in the City Art Gallery, Manchester. Broadcasted at BBC2, 1996.
VD 187

Articles
A game of two halves: 'English' identity fifty years after Windrush
/Malek, Bilkis
In Soundings no 10 Autumn 1998 pp.145-156
Focuses on the insights football culture gives us into the ambivalences of the English psyche.
Flat football
/Stone, Rob
In Make v.79 March-May 1998 pp.16-17The aesthetics of the pitch vs the picture plane.
'Offside!' : contemporary artists and football
/Pryke, Sam
In Third Text no 36 Autumn 1996 pp.102-104
Review of international group show at Manchester City art galleries from June-September '96.